Need help? Our experts are ready to find the solution you need.
Shipping Automotive and Marine Parts
We understand the demands of the automotive and marine industries: to get cars back on the road or boats back in the water as quickly as possible. Our goal is to keep your manufacturing assembly lines, dealerships, repair departments and retail stores supplied with whatever is required that day – from a 600-pound engine to the smallest screw for a dashboard assembly. With air, ocean and surface options, Lynden offers a diverse lineup of flexibility and speed to reduce shipping delays and prevent lost sales opportunities. 
Working within a competitive and fast-paced industry is a challenge, and rush shipments are common. Lynden partners with its automotive and marine customers to navigate the complex transportation demands to keep supply chains moving and products headed to the final destination. Our Dynamic Routing abilities allow us to speed up or slow down parts shipments to help auto and marine manufacturers, dealers, repair shops and parts suppliers balance costs with ebbs and flows in business. We create supply chain programs that can be adjusted for production and sales cycles, while delivering value and reliable service.
We also offer a parts replenishment and return program, a proven claims prevention process to identify and eliminate damage, experience shipping heavy, odd-sized and fragile freight, and offshore shipping expertise in Hawaii, Alaska and Puerto Rico. Let Lynden steer you to success for all your automotive and marine parts shipping needs. 
Every shipment includes Lynden's free online EZ Commerce system for tracking, tracing and reporting as well as other helpful online tools.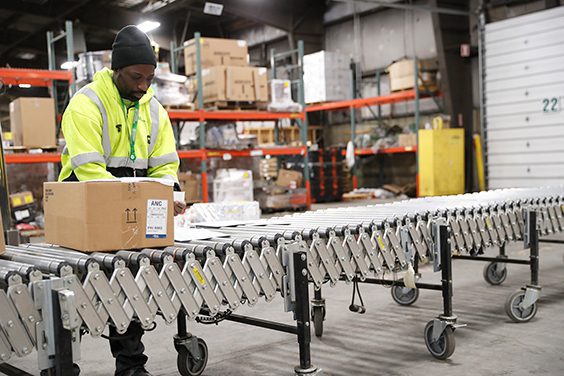 Automotive, motorcycle or marine parts can be heavy, irregularly shaped, or extremely fragile/susceptible to damage if not packaged and handled properly. Shippers need to know:
The breakdown of weights, sizes, frequency, and shipping locations for the parts you ship.
How you currently package your parts, and which ones are most often damaged in transit.
Which parts may qualify as hazardous materials (hazmat).
Logistics information like fulfillment and returns programs.
Proper packaging is critical to prevent damage during shipping. Some products may require crating, overpacking, or specialized racking systems to ensure safe transport. Proper palletization and packaging, including corner boards, can protect your package. Lynden experts can help you review your packaging to ensure your parts are properly protected.
With a transportation network that includes barge, container ship, airline and truck, Lynden and other experienced multi-modal carriers can move parts of any size.
We have the
equipment
experience
solutions
for your freight needs!
Submit a request to receive a personalized quote from one of our freight professionals.
Complete our form to schedule a shipment. Include your quote number if you have one.