Need help? Our experts are ready to find the solution you need.
Lynden opened its first Honolulu office in 1985, and is now one of the most experienced and respected transportation companies serving Hawaii. With a variety of air and ocean options, shipping to Hawaii, from Hawaii or inter-island, is our specialty. Our Hawaii employees offer unmatched experience and knowledge of the Hawaiian market, and use their expertise to plan out the optimal mix of air and ocean services to help our customers meet any budget and timeframe. We look forward to serving you with Aloha spirit.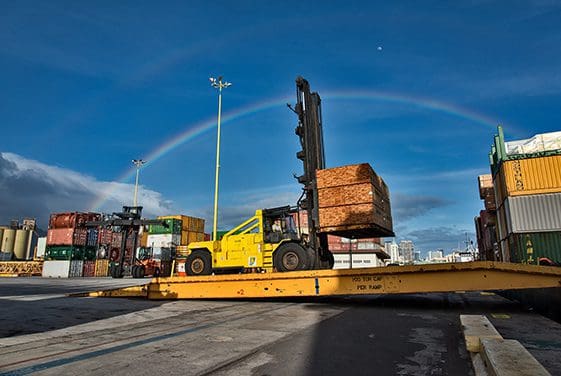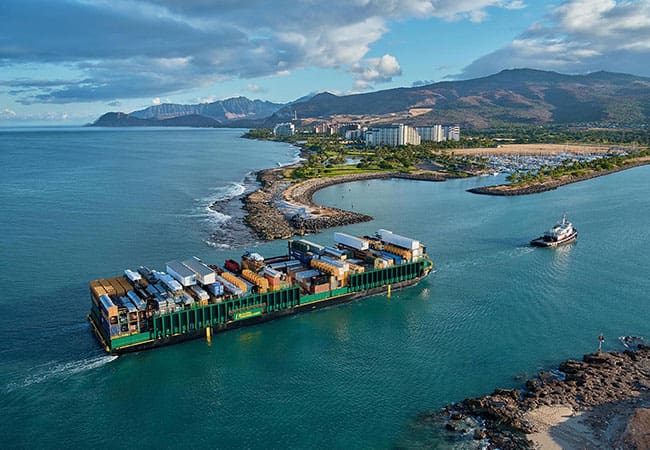 Lynden's services include bi-weekly barge service between Hawaii and the Pacific Northwest, and air and ocean forwarding between Hawaii and anywhere in the U.S. or internationally. Our diverse capabilities allow customers to vary shipping speeds to match their requirements. If something is needed quickly it can ship to Hawaii via air or ship or, if time flexibility allows, customers can save money by using barge service.
Our extensive transportation network enables customers to have their freight picked up from suppliers on the mainland and shipped to Hawaii all by the same company, simplifying the entire shipping process.
Every shipment includes Lynden's free online EZ Commerce system for tracking, tracing and reporting as well as other helpful online tools.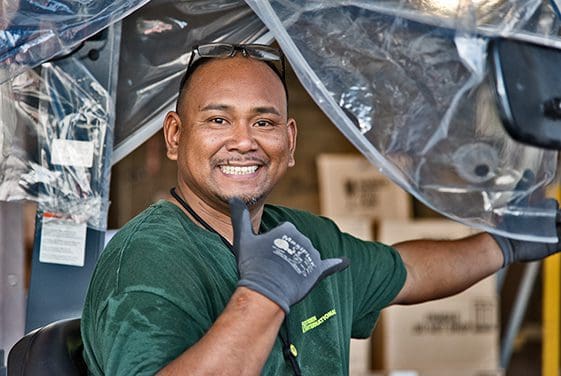 Products are typically moved throughout the Lower 48 into West Coast ports such as Seattle, Portland, San Francisco and Los Angeles/Long Beach. From the West Coast the average time is approximately two weeks via barge into Oahu and another week or so to reach outer islands. It is important to allow for loading and unloading time.
Less-than-container load or LCL is used to describe the transportation of small ocean shipments not requiring the full capacity of an ocean container; usually less than 20 CBM (cubic meters).
Full-container-load or FCL is used when the cargo fills a full container. The container can be loaded at the supplier and then trucked to the container yard (CY).
Breakbulk is used for goods/cargo that must be stowed individually, not in a container on the ship/barge.
There are a few things to look for when selecting a transportation and logistics company. Specifically:
Select a company who knows the islands, employs local people and has established relationships with air and sea providers. People who live and work in Hawaii like dealing with people who also live and work there. It's a big part of the culture.
Make sure your provider understands retail and mall deliveries. Unlike other businesses, malls can only accept freight during certain times.
Air freight is dependable but also expensive. Look for a provider like Lynden who can help with warehousing if needed, both at the origin and destination ports. You can get better pricing if you ship more at one time and store it for a few days to deliver as needed. If possible, ship one container per month via barge and then fill in with air to ensure your store has full shelves for potential customers.
Your logistics provider should understand the unique aspects of doing business in Hawaii. It rains a great deal and you need protection to ensure your products arrive intact with no water damage. The right provider will work with you to ensure your goods are packaged properly before they leave your facility so what you ship is in the same condition when it is delivered.
We have the
equipment
experience
solutions
for your freight needs!
Submit a request to receive a personalized quote from one of our freight professionals.
Complete our form to schedule a shipment. Include your quote number if you have one.