The history of the Lynden family of companies is also the history of Ed Austin and Lynden patriarch Henry "Hank" Jansen. Early on, Hank had the vision to expand a small delivery company called Lynden Transfer into something bigger. It all started in Lynden, the companies' namesake city in northern Washington state.
Ed Austin moved from Minnesota to Lynden, WA with his family in 1887. In 1906, at age 23, he started hauling goods from the railroad station to local businesses with a wagon and a team of horses. He called his new business Lynden Transfer, and his wife Ethel handled the bookkeeping from their home in Lynden. With a wagon pulled by Queen and Scottie, Austin hauled everything from furniture to produce to animal feed. In a foreshadowing of the company's future diversity, Austin also provided excavating, pulled the hearse for local funerals and hauled freight back and forth to the southern city of Bellingham. A second team of horses and a wagon were eventually added to keep up with the growing business.
In 1921, Austin decided to replace his horses with a two-and-a-half-ton Mack truck and expanded his operation south, hauling eggs and milk to Seattle. A second truck was soon added, often driven by Ethel Austin, to meet the demand.
Hank Jansen moved to Lynden from North Dakota with his family, which included 11 brothers and sisters, in 1926. Hank was a first-generation Dutch immigrant with an eighth-grade education. He started working at local dairy farms as a teenager, but he was more interested in driving trucks. The first chance he got, he jumped into the cab of a truck and assumed the position of delivery boy for his father's nursery. "I would've driven a truck for nothing at that point," he said. Jansen soon made the transition from the nursery to hauling coal with his own Dodge truck for $6 per ton. In 1940, he went to work for Lynden Transfer, becoming one of Ed Austin's regular drivers on the Seattle run.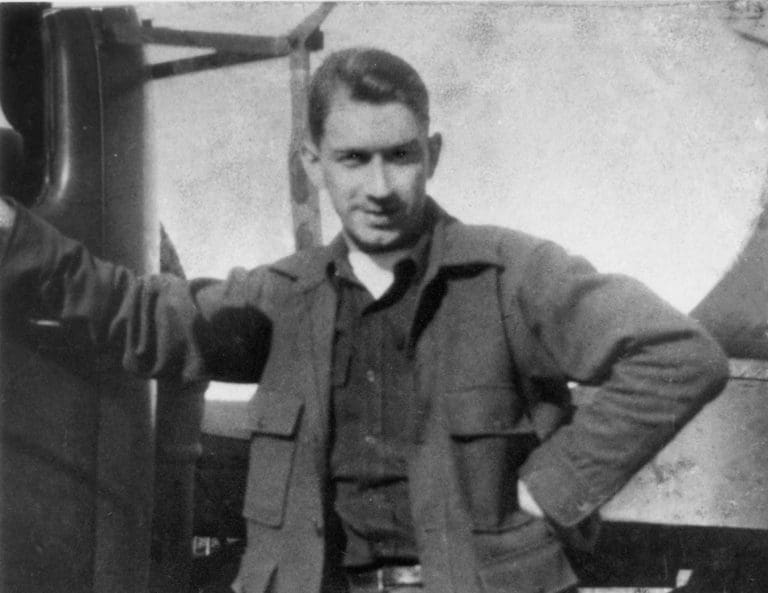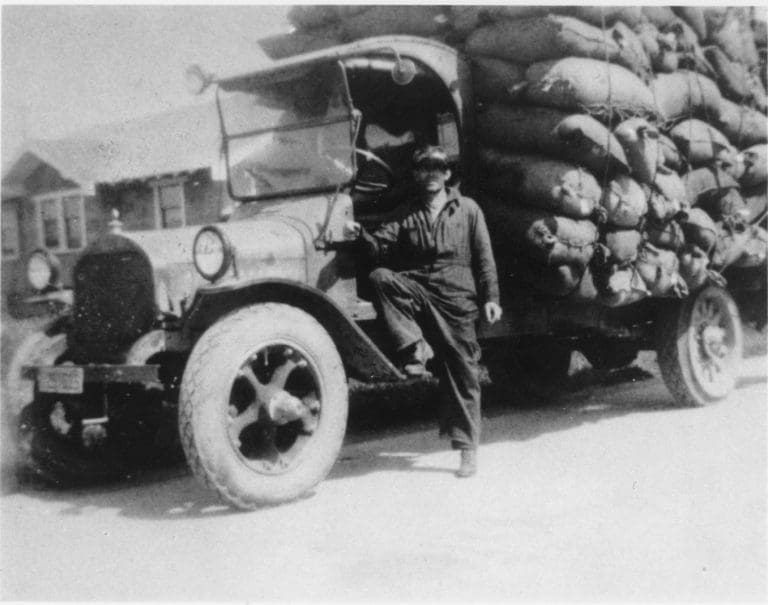 By 1945, Ed Austin had two semi tractor-trailer rigs, one Mack truck, a pickup and four full-time drivers. After serving the Lynden community for 40 years, Austin sold the company to John Harkoff, Jr. and Richard Gourdine. The new owners didn't own the company long. By 1947, they were looking for a buyer, and Jansen, with partners Walt Craig and Edward Hoffman, decided to purchase it on April 8, 1947.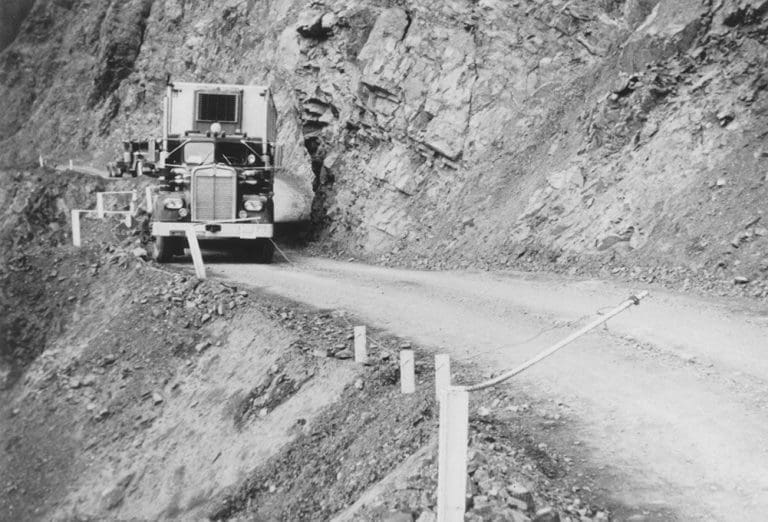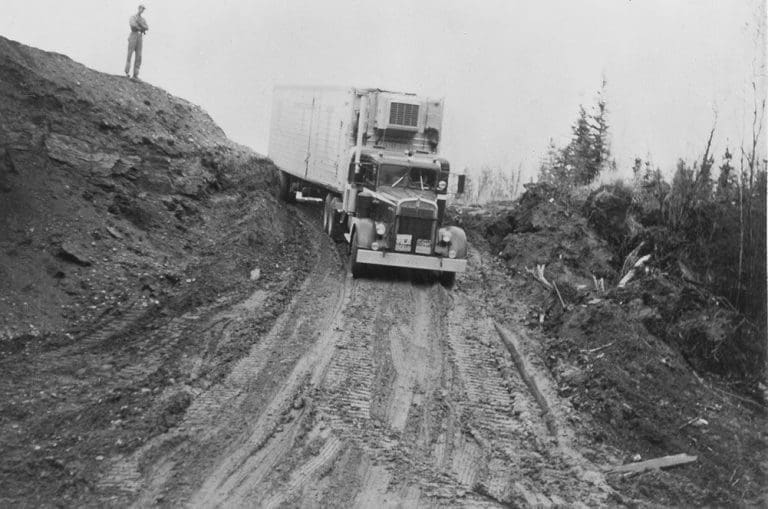 Jansen saw expanding service north – all the way to Alaska – as the best chance for real growth. His colleagues were skeptical and told him so. In the early 1950s, some saw the Alaska-Canada (Alcan) Highway as an impossible obstacle for truck delivery. "I had a pile of letters from friends in the trucking business who said if you get on that run no one will survive that highway," he said.
But Jansen pressed on and lined up customers for the first load in 1953. The next year, the first Lynden Transfer Kenworth left Seattle with a load of fresh meat destined for Alaska. Drivers Oscar Roosma and Glen Kok teamed up for the grueling trip and delivered the side of beef in perfect condition. The butcher at the market handled the beef like a newborn baby, then carefully put it in the bed of his pickup for people to gaze upon.
That first trip was critical as failure would have meant bankruptcy. For Alaska residents, that initial truck delivery over the Alcan Highway ushered in a new era of fresh produce, milk and meat and made Lynden a household name in Alaska.
Faster than barge and cheaper than air, Lynden began to carve out a niche in Alaska. Jansen and his drivers and mechanics knew that delivering great service was all they had to sell. And deliver they did. They were a hearty and courageous group who worked hard battling the harsh Alaska environment. Those early drivers and mechanics were the heart and soul of early Lynden and later became known as Lynden Legends and Everyday Heroes.
"Some of those early Alcan drivers would've packed that stuff in the last 20 miles on their backs if they had to," Jansen said. "That's what it's all about: good people meeting customer's needs." Attracting and retaining the best people is a hallmark of the Lynden companies. Jansen demonstrated what would become the Lynden core values of putting the customer first, working hard to offer quality service, and doing it safely and efficiently.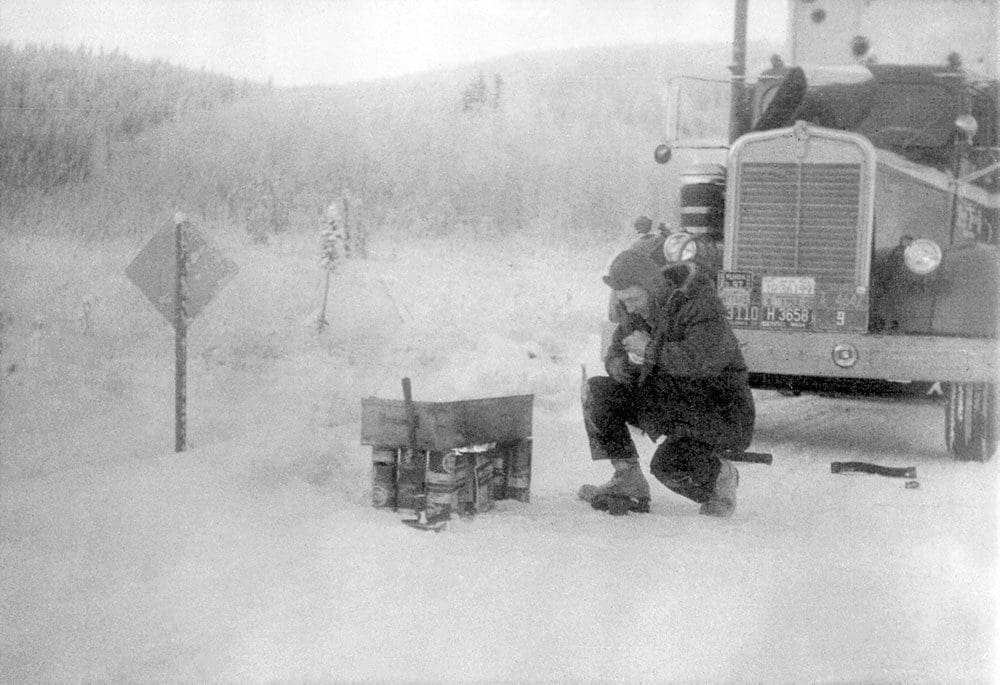 The transition from a trucking company to an all-mode transportation company began as a survival strategy in the late 1970s. It was led by Jim Jansen, Hank's eldest son, with an outstanding team of Lynden people. At that time, the Trans-Alaska pipeline was complete and Lynden's trucking activity had dropped dramatically.
By focusing on opportunities and developing niche markets, Lynden leaders adapted to the changing market and evolved from an Alaska and Washington trucking company to a diverse transportation and logistics company. The transition continues today with Lynden remaining Alaska-focused and continually evolving and adapting to meet customer needs.
From its humble beginnings more than a century ago as a two-horse operation, Lynden has grown into a multi-modal provider of air, marine, trucking and logistics services. The Lynden family of companies still operates under the original philosophy: put the customer first, work hard, deliver quality and be the best.