Need help? Our experts are ready to find the solution you need.
The Lynden family of companies delivers a total freight transportation package over land, on water, in the air, or in any combination. Our diverse multi-modal shipping capabilities allow customers to vary shipping speeds to match their requirements. The ability to balance speed and cost, and create an optimal mix for a given project or solution, gives customers a very powerful link in their supply chain.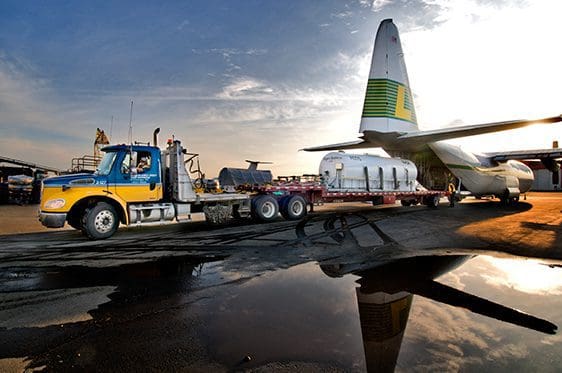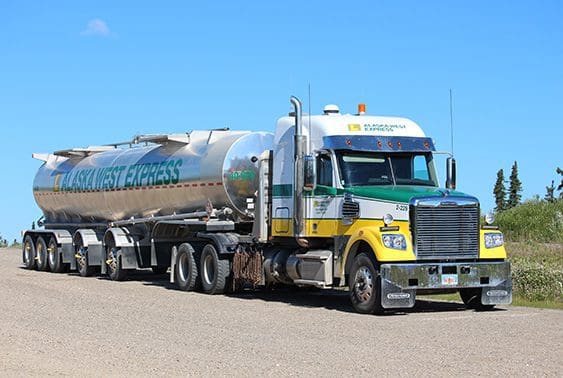 Lynden's combined capabilities include truckload and less-than-truckload transportation, scheduled and charter barges, intermodal bulk chemical hauls, scheduled and chartered air freighters, domestic and international forwarding and customs services, sanitary bulk commodities hauling and multi-modal logistics. We are the Swiss Army knife of transportation providers, giving customers the option to use any or all of our modes for seamless service. 
Since Lynden is a multi-modal operator, we often introduce innovative equipment and services not typically found with single-mode companies. One great example is the introduction of features to our marine containers that are common in highway trailers, but not found in marine equipment. These features include interior dimensions larger than most 102″ wide 53′ trailers, and Kaptive Beam® decking systems that allow freight to be stacked higher in the container without crushing the bottom pallets, thus ensuring our customers can maximize all available shipping space.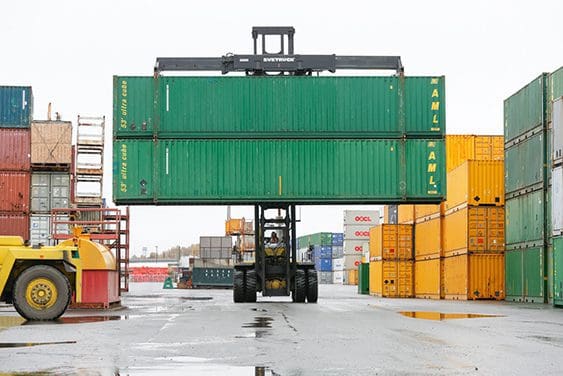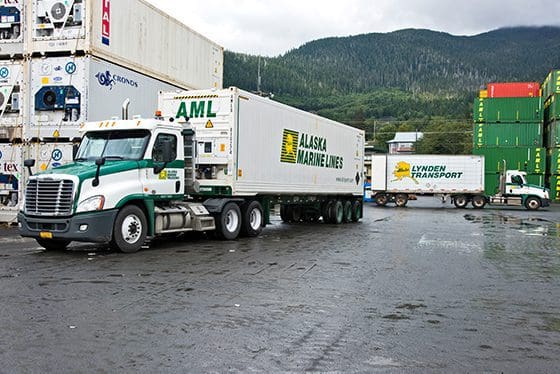 Using our extensive highway expertise we designed tractors and chassis for these ultra-high capacity containers that provide unmatched weight payloads. We have even introduced a low profile 102″ wide 53′ shipping platform that is very close to same capacity as the best flatbed trailers. Our unique equipment is a perfect fit for the unique needs of customers.
Every shipment includes Lynden's free online EZ Commerce system for tracking, tracing and reporting as well as other helpful online tools.
Multi-modal transportation is a combination of at least two different modes of transport, air, truck, rail or sea, and falls under one single bill of lading, making it easier to track your cargo. Multi-modal is considered to be a timelier, cost-saving shipping resource. Intermodal also uses a combination of at least two different modes of transport but every part of the process is contracted with a different provider.
Shipping to Alaska, with its diverse and often severe climates, requires a carrier that can provide air, truck and sea capabilities, including ships, barges and even the Alaska State Ferry system. The provider must have the ability to switch transportation modes to speed up or slow down deliveries in emergency or changing situations. Working with a multi-mode carrier, like Lynden, may also allow you to take advantage of innovative equipment and services not typically found with single-mode carriers.
Depending on the size of your shipment, you could move your freight via barge to Anchorage and then onto Nome via scheduled air service from Anchorage.
We have the
equipment
experience
solutions
for your freight needs!
Submit a request to receive a personalized quote from one of our freight professionals.
Complete our form to schedule a shipment. Include your quote number if you have one.