Need help? Our experts are ready to find the solution you need.
Full Truckload Shipping Services
Lynden is an established leader for full truckload shipping and container-load freight. Each year, we are trusted with moving temperature-sensitive seafood, pharmaceuticals, construction materials and other products all over Alaska and North America.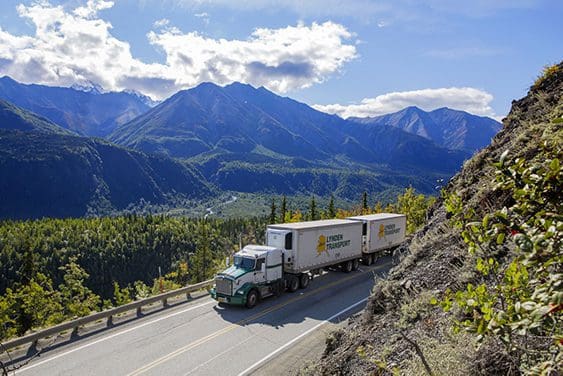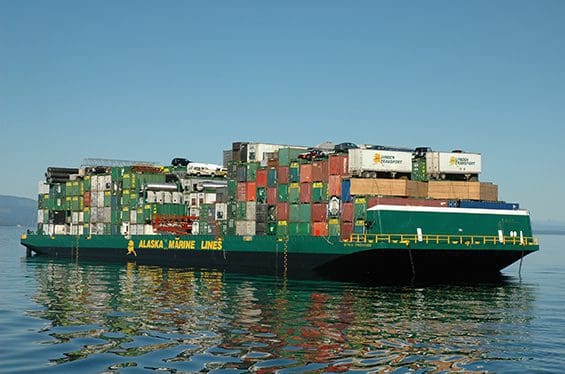 Lynden is an award-winning regional carrier providing Full-Truckload (FTL) service to, from and within Alaska. We have expedited routes via Washington, Oregon, California, Texas and the surrounding oil patch and Western Canada. We also offer the convenience of scheduled barge service from Seattle to Alaska and Hawaii and Full-Container-Load (FCL) service to points across Central Alaska.
We are proud to offer customers the Kaptive Beam® decking system in our fleet of dry, heated, insulated and refrigerated trailers and dry containers. The patented system allows double stacking of freight to maximize capacity and minimize the risk of damage while saving customers time and money.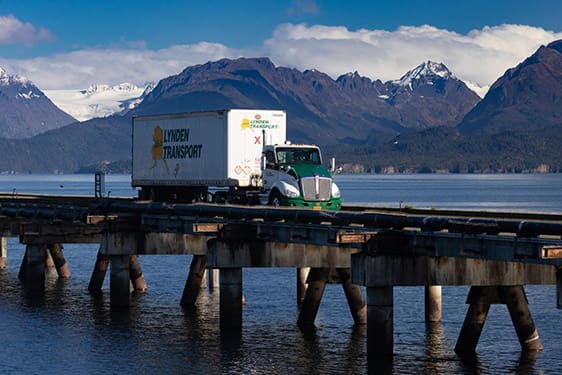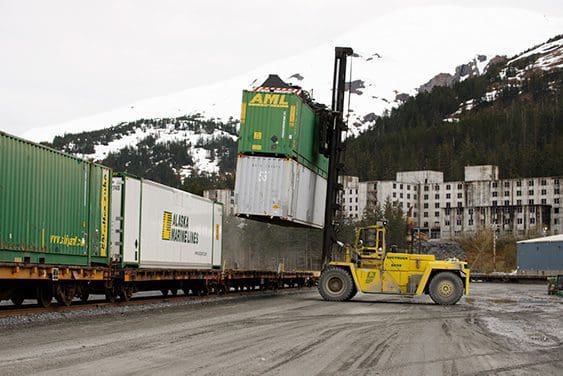 Our extensive fleet of trailers and containers gives us the capacity to get your freight loaded and on the road quickly. When you choose Lynden, you get the added assurance of a single company in complete control right to your destination. We'll take it all the way – from pickup to delivery. 
Lynden's online tools, like our free EZ Commerce system, give you the power to control information about your shipments, projects and business.
More effective for large shipments – provides savings over multiple small shipments
Ideal for high-risk or delicate freight
Not subject to the needs of other shippers "sharing" the load
Shipment never leaves the trailer from origin to destination – less handling
Typically faster than LTL
Look for a transportation and logistics provider with a variety of equipment to ensure your goods move safely and cost effectively. These may include:
Dry vans
Heated vans
Insulated vans
Refrigerated vans
Flatbeds
Specialty flat-beds – sizes include stretch, step-deck, low-drop, removable goose necks (RGN), double-drop stretch and Aspens.
Yes, look for a transportation and logistics provider, like Lynden, who offers the Kaptive Beam® decking system installed in their containers. The system allows double stacking of freight to maximize capacity and minimize the risk of damage. Decking beams can be set at multiple heights and positioned as needed, securing mixed loads and protecting products from shifting in transit. The unique system optimizes the trailer's capacity.
Lynden and other carriers offer the Kaptive Beam® decking system in multiple equipment options to ensure your goods arrive on-time and damage free. Click here to learn more about how Lynden utilizes the Kaptive Beam® system.
We have the
equipment
experience
solutions
for your freight needs!
Submit a request to receive a personalized quote from one of our freight professionals.
Complete our form to schedule a shipment. Include your quote number if you have one.