Need help? Our experts are ready to find the solution you need.
Bulk Transportation and Logistics
From a product as wholesome as milk to the most hazardous liquid chemicals, Lynden provides bulk transportation and logistics of your liquid and dry bulk products with the ultimate level of care and attention.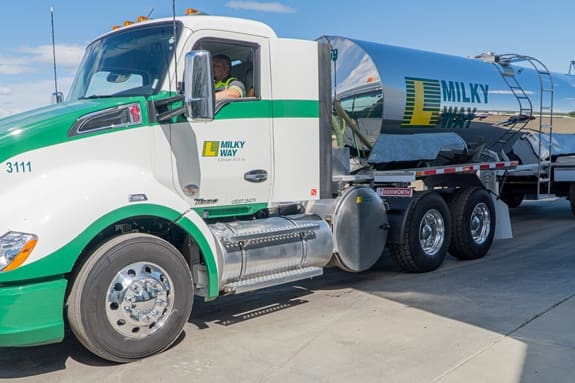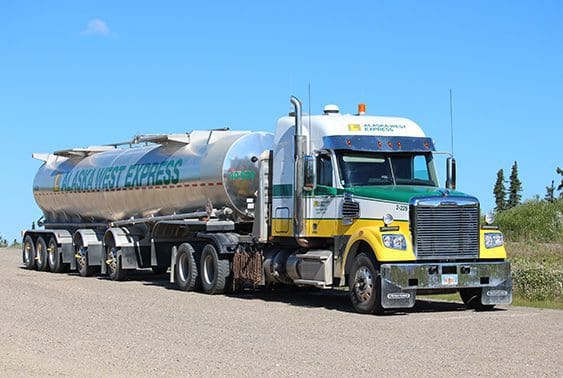 Chemicals, hazardous materials and temperature-controlled edibles are unique products that require a knowledgeable and experienced transportation partner. Lynden uses its own specially designed and manufactured steel tankers to transport and deliver your sensitive products in the same condition as the minute they were loaded. Our tankers maintain products at up to 400 degrees Fahrenheit and are tailored for sensitive and industrial jobs.
We are licensed and registered with the Environmental Protection Agency and the Washington Department of Ecology to provide the safe transport of regulated industrial waste materials and we offer the same services in select areas of Alaska and Canada.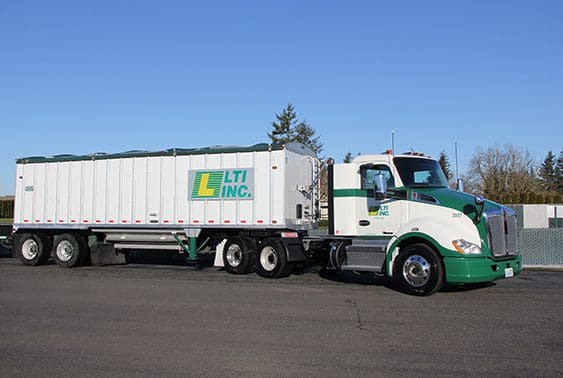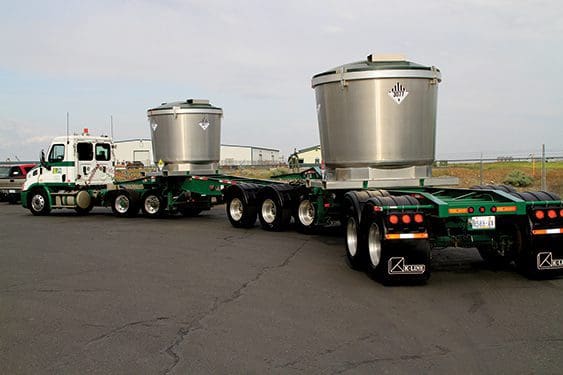 Selecting a transportation partner to move these unique products should never be left to chance. From oil refineries and metal processors to pulp mills and construction companies, industrial shippers trust their bulk truckload hauls to Lynden.
Every shipment includes Lynden's free online EZ Commerce system for tracking, tracing and reporting as well as other helpful online tools.
Fresh milk is driven from the dairy farm to a local dairy processing plant. The raw milk is cooled to 38 degrees and is stored in refrigerated and insulated, sealed tanker trucks.
From grape cultivation to the tasting, wine is a product which requires expert transport.  Here are a few things to be aware of:
Wine is highly affected by extreme humidity, cold, heat and thermal fluctuations. It must be kept between 55 and 65 degrees Fahrenheit, with minimal variation. Everything from the transit to the labels and packaging impact bulk wines. Precautions should be taken to prevent spoiling or tainting caused by contamination, re-fermentation or oxidation.
Wine shippers should know all current government rules and regulations, including maritime law protocols, amendments and U.S. safety laws. If not followed, you may face non-compliance penalties and fines, late deliveries and delayed orders.
Unless a wine has been produced with longevity and aging goals, the minute it is bottled the deterioration process begins and the shelf life starts.
It is important to work with an experienced bulk transportation and logistics partner, like Lynden, with the experience and knowledge to move wine safely and efficiently.
If you're tasked with shipping bulk chemical products, there's a few things you should understand before you request a pickup. Shipping a chemical product in a bulk liquid tank or dry bulk trailer is a potentially volatile situation, setting it apart from other modes of transport. Here are a few tips:
Know your product. The single most important component of the chemical transport process begins with all parties understanding the chemical being shipped. This includes being able to provide the product's Safety Data Sheet (SDS) to your providers so they can understand additional product specifics.
Know your product's equipment needs to the extent possible. Once your transportation and logistics providers have your SDS, they can start matching the product to the equipment.

Can the products be shipped in stainless steel tanks? Aluminum? Specialized containers?
Are there temperature requirements?
If liquid bulk, does the product foam?
Were incompatible products in the tank or trailer prior to yours?

Share loading and unloading SOPs (Standard Operating Procedures). The carrier should be aware of what to expect at both the loading and unloading facilities. Being aware from the start allows the carrier to prepare and avoid delays.
Inform your transportation and logistics partner of blind shipment products. While it's relatively common practice within the chemical industry to have one product marketed under different names, it's important that you notify your driver of any discrepancies to reduce issues with the load.
Vet your carriers. You don't want to entrust your products to just anybody. You need to make sure the carrier is up-to-date with all necessary paperwork and certification requirements. Look for a partner, like Lynden, with a proven track record of moving bulk chemicals, a clear understanding of all the regulations and the right equipment for your projects.
We have the
equipment
experience
solutions
for your freight needs!
Submit a request to receive a personalized quote from one of our freight professionals.
Complete our form to schedule a shipment. Include your quote number if you have one.