Need help? Our experts are ready to find the solution you need.
Oversized and Heavy Equipment Shipping
At Lynden, no load is too wide, too tall or too heavy. Handling oversized and overweight freight is our specialty, and we take pride in coming up with cost-effective and creative ways to deliver it. With a variety of equipment, including special trailers, barges built to carry bulk freight and a fleet of Hercules cargo aircraft, we can meet any oversized and heavy equipment shipping challenge.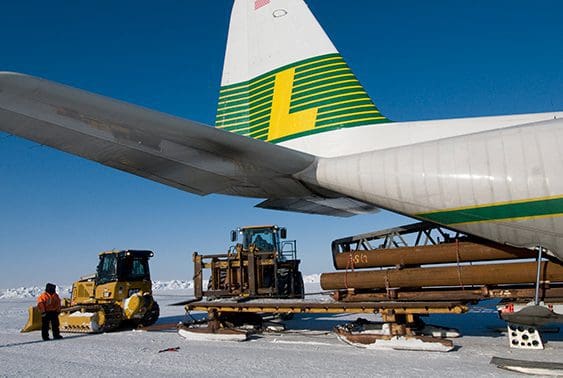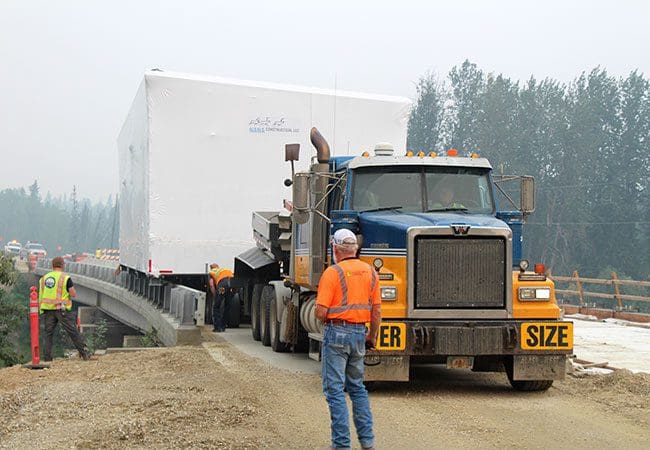 Our skilled drivers have years of experience with oversized and heavy equipment transportation, delivering mining supplies, drill rigs and construction materials in the harshest climates.
We know the ins and outs of getting the biggest loads across bridges, narrow roadways or sensitive areas. We'll obtain the necessary permits and check the route for overhead obstacles, weight limits and other issues ahead of time. With a variety of specialized equipment to choose from, we've got what you need to move freight of any dimension.
We are known for our dependable transportation of oversized cargo, and we are always up for a new challenge. By land, air or sea, we'll do the heavy lifting for you.
Lynden's online tools, like our free EZ Commerce system, give you the power to control information about your shipments, projects and business.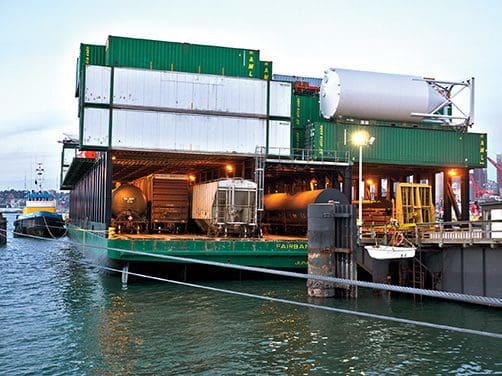 Loads that are beyond the regulated legal limit on most roads are considered heavy hauls. While numbers vary from state to state, anything past 8.6 feet in width, taller than 12.6 feet in height, longer than 53 feet or that exceeds 80,000 pound of gross weight is generally considered a heavy load.
Heavy hauling equipment can carry large or awkward loads to urban or remote destinations. Pieces typically consist of a heavy tractor unit with a multi-axled trailer, specifically 5, 6, 7, 8, 10, 13 and 19 axles. These categories indicate the sets of wheels attached to the trailer. The higher the axle the more loads the truck can transport. It's important to know the different types of heavy haul trailers available:
Flatbed trailer – maximum weight is 48,000 lbs. and measures anywhere from 48' to 53'. Loads may be stowed on the open, flat tip, sides and rear.
Lowboy trailer – has two drops in the height deck after the gooseneck and right before the wheels, allowing deck to hang lower to the ground. Lowboys can carry loads up to 12' tall and large equipment such as bulldozers or industrial equipment. A 2-axle lowboy trailer can carry up to 40,000 lbs.
Step-deck trailer – most commonly used today with a floor that drops a level once clear of the tractor unit. This type of flatbed trailer, with a bottom and top deck, is designed for heavy equipment such as bulldozers and cranes. Built-in ramps provide easy loading versatility. They can also hold a maximum weight of 48,000 lbs.
Stretch, single-drop and double-drop deck trailers – Specifically designed to haul long loads a traditional flatbed or step-deck cannot handle. Double-drop trailers allow for loads as tall as 10 feet, and include a "well" in the middle of the back deck. Both can handle about 45,000 lbs. and can stretch to a length between 30' to 65'.
Removable gooseneck trailers (RGN) – optimal for carrying tall and long loads. The front is detachable and allows the bottom to lower to create a ramp. RGNs can handle loads as heavy as 42,000 lbs., but stretch RGNs can hold more.
It is important to select an experienced transportation and logistics provider offering the right equipment for your oversized and heavy cargo shipping needs. They should know the route needed, determine what equipment works best and if any special permits are needed.
It's important to work with a transportation and logistics partner, like Lynden, who understands heavy haul moves and the construction business so your machinery is delivered safely and on time. Whether you're transporting a crane, a bulldozer, forklift, pipe or spools of cable, there are a few things to keep in mind:
Determine your equipment dimensions:
Height – 13 feet, 6 inches is standard. Only a few states allow more height.
Width – 8 feet, 6 inches is standard. It's difficult to transport an over-width piece of equipment; you may be able to move the wheels or tires.
Length – In general, between 48 feet and 65 feet maximum. Most states allow 65 feet, but check to be sure. Most trailers are either 48-feet long or 53-feet long.
Weight – 80,000 gross vehicle weight (GVW) is the limit. Usually a truck and trailer weigh about 40,000 pounds, leaving 40,000 pounds for your equipment. After that, you'll be paying for oversize permits and fees. Use the manufacturer's specs to determine the weight of your machinery.
Talk to transportation and logistics experts that specialize in heavy equipment moves and discuss these three questions with them:
Is your equipment equipped to handle oversize moves? Can I remove attachments from my equipment or deflate tires? Cargo that exceeds state limits requires special handling and experience.
Is dismantling your equipment an option? Unattached bulldozer blades can sometimes be shipped on the same trailer as the machine. Think about breaking down your equipment into loads that fit on a trailer.
Do you need help loading and unloading? Flatbeds don't tilt, so you need a dock or some other method for loading/unloading. Step-decks use ramps, while RGNs drop to the ground.
Preparing your equipment for transport ensures there's no delay when the truck shows up to load. Be sure to:
Wash your equipment before loading.
Disconnect batteries and make sure all latching doors are closed.
Select a level loading spot.
Prepare the machine for travel by adjusting booms and hoists to meet height regulations.
Cover the stacks, securing the covering tightly.
We have the
equipment
experience
solutions
for your freight needs!
Submit a request to receive a personalized quote from one of our freight professionals.
Complete our form to schedule a shipment. Include your quote number if you have one.