(Rev. 9/19/2019)
Welcome to the website for Lynden Incorporated and its subsidiaries and affiliates (collectively referred to herein as "Lynden").  Please carefully read the following terms and conditions of use; by using this website, each user acknowledges affirmative acceptance of them.  Use of this website and all services provided through it are subject to these terms and conditions.  Anyone who does not agree with these terms and conditions should not use this website. There may be additional terms and conditions at specific locations in this website that govern particular services, applications or features.  Standard terms and conditions and tariffs for transportation and other services can be found under Customer Tools on the Lynden home page, www.lynden.com.
Lynden reserves the right to make changes to this website, its policies and these terms and conditions at any time, without notice.  If any of these terms or conditions is deemed invalid, void or for any reason unenforceable, that item shall be deemed severable and shall not affect the validity or enforceability of the remaining terms and conditions.
Privacy
The lynden.com web server gathers certain information from all users including, but not limited to, date and time, referring address, type of browser and operating system, and the user's IP address.  Of course, the server also collects any information a user submits in using Lynden web services. The server may also place cookies on a user's computer. 
Certain areas of lynden.com, including but not limited to EZ Commerce services, require registration or a password for access.  Some of the information collected in registration, or when shipment or payment information is provided, is identifiable to an individual person.  Examples of personal information include names, addresses, email addresses, and telephone numbers.  Those who register and use Lynden's EZ Payment service are passed through to servers operated by our bank which handles this service under a contract.  All information entered is processed and stored by the bank, other than enrollment ID which is stored on the Lynden server.  The bank is solely responsible for maintaining the security of information on its servers.
Lynden uses information collected by its servers for a variety of purposes, including but not limited to providing and improving customer service, marketing, and statistical analysis.  Lynden shares some information with application service providers and other third-party contractors, such as our bank, as deemed necessary or advisable to provide quality services to customers.
Each person who registers to use Lynden web services is responsible for maintaining the confidentiality of his or her account information, passwords, access to computers, and agrees to accept responsibility for all activities that occur under his or her account and password.  Lynden reserves the right to terminate accounts, remove or edit content, and refuse service in its sole discretion.
From this website, Lynden may provide links to third-party websites over which Lynden has no control.  Users follow these links at their own risk, and are advised to read the terms and conditions of use and other policies posted for each such website.  Lynden makes no representations or warranties of any kind, express or implied, as to such websites or the information, content, materials, or products included thereon.
From time to time Lynden may send notices to users of its website to inform them of new or different services and changes to the website.  By using this website each user thereby consents to receiving such notices.  Any user who does not want to receive the notices, may unsubscribe by using an unsubscribe function included in the email or sending a request to be excluded to webmaster@lynden.com.  Lynden will remove the user from the notice list as promptly as reasonably possible after receiving the request.  However, unless the user specifically asks to de-register from our web services, Lynden reserves the right to continue sending notices of changes in account passwords or other information the user might need to continue accessing Lynden web services, and notices of changes in rates and charges.
Disclaimer of Warranties and Limitation of Liability
LYNDEN.COM AND ITS CONTENT ARE PROVIDED ON AN "AS IS" AND "AS AVAILABLE" BASIS.  LYNDEN (LYNDEN INCORPORATED AND ITS SUBSIDIARIES AND AFFILIATES) MAKES NO REPRESENTATIONS OR WARRANTIES OF ANY KIND, EXPRESS OR IMPLIED AS TO THE OPERATION OF THIS WEBSITE OR THE INFORMATION, CONTENT, MATERIALS, OR PRODUCTS INCLUDED ON THIS WEBSITE, INCLUDING BUT NOT LMITIED TO NO WARRANTY THAT THIS WEBSITE, ITS SERVERS OR EMAIL SENT FROM LYNDEN, ARE FREE OF VIRUSES OR OTHER HARMFUL COMPONENTS.
LYNDEN DISCLAIMS ANY AND ALL WARRANTIES, EXPRESS OR IMPLIED, INCLUDING WITHOUT LIMITATION THE IMPLIED WARRANTIES OF MERCHANTABILITY, FITNESS FOR A PARTICULAR PURPOSE, TITLE AND NON-INFRINGEMENT REGARDING THE LYNDEN.COM WEBSITE AND ANY PERSON'S ABILITY OR INABILITY TO USE IT.
LYNDEN WILL NOT BE LIABLE FOR DAMAGES OF ANY KIND ARISING FROM USE OF THIS WEBSITE, INCLUDING BUT NOT LIMITED TO DIRECT, INDIRECT, INCIDENTAL, PUNITIVE AND CONSEQUENTIAL DAMAGES, WHETHER OR NOT FORESEEABLE.
All limitations upon, and exceptions and defenses to, liability herein shall be deemed automatically extended to all affiliated entities of Lynden and all of their respective contractors and subcontractors, and the members, directors, officers, employees and agents of each of them.
Release and Indemnity:
By using this website, each user hereby releases, agrees to defend, indemnifies and holds harmless Lynden and its affiliated entities and all of their respective contractors and subcontractors, and the members, directors, officers, employees and agents of each of them, from and against all claims, demands, causes of actions, liabilities, damages, costs and expenses, including without limitation attorney and other fees, arising out of or related to the use or viewing of this website or any services provided through or in connection with this website.
Law, Forum and Disputes
Each user agrees that the laws of the state of Washington will govern this agreement, and any dispute that might arise relating to this website and its use, without regard to conflicts of laws principles. 
Any dispute relating to use or viewing of this website or any services provided through or in connection with this website shall be submitted to binding arbitration in Seattle, Washington, except that to the extent a user has in any manner violated or threatened to violate Lynden's intellectual property rights, Lynden may seek injunctive or other appropriate relief in any state or federal court in the state of Washington, and each user consents to exclusive jurisdiction and venue in such courts.  The prevailing party shall be entitled to attorneys' fees and costs.  Arbitration under this agreement shall be conducted under the rules of the American Arbitration Association.  To the fullest extent permitted by law, no arbitration or other action under this agreement shall be joined to another arbitration or other action involving any other party subject to this agreement, whether through class arbitration proceedings or otherwise.
Non-U.S. Users
This website is controlled by Lynden from within the United States of America (USA).  Lynden makes no representation that use or viewing of this website or any services provided through or in connection with this website are appropriate, lawful, or available in other locations.  Users who access this website from a location outside of the USA, do so on their own initiative and are responsible for compliance with the laws of the USA and their location. 
California Privacy Rights:
Under California Civil Code Section 1798.83, if you are a California resident and your business relationship with us is primarily for personal, family or household purposes, you may request certain data regarding our disclosure, if any, of information to third parties for the third parties' direct marketing purposes. To make such a request, please send an email to privacy@lynden.com with "Request for California Privacy information" in the subject line. You may make such a request up to once per calendar year. If applicable, We will provide to you via email a list of the categories of information disclosed to third parties for their direct marketing purposes during the immediately-preceding calendar year, along with the third parties' names and addresses. Please note that not all personal data sharing is covered by the requirements of California Civil Code Section 1798.83. 
Ownership
Lynden.com and its content, as well as the Lynden logos, trademarks, service marks and company names, are registered and copyrighted property of Lynden Incorporated and may not be used without prior consent and are protected by USA and international trademark, copyright and other laws. © Copyright Lynden Incorporated. All rights reserved. By allowing access to this website, Lynden does not grant any ownership or license rights in this website or its content.
For further information regarding the intellectual property rights or other legal issues relating to this website, please contact:
Lynden Incorporated
Legal Department
18000 International Blvd., Suite 800
Seattle, WA 98188
Lynden Mobile App Privacy Policy
Lynden Incorporated provides the Lynden Mobile App as a free service (the "Service"). The Service may be used only as provided by Lynden, without modification by any user.
If you choose to use our Service, then you agree to the collection and use of information as described in this policy. The personal information we collect will be used for providing and improving the Service. We will not use or share your information with anyone except as described in this Privacy Policy.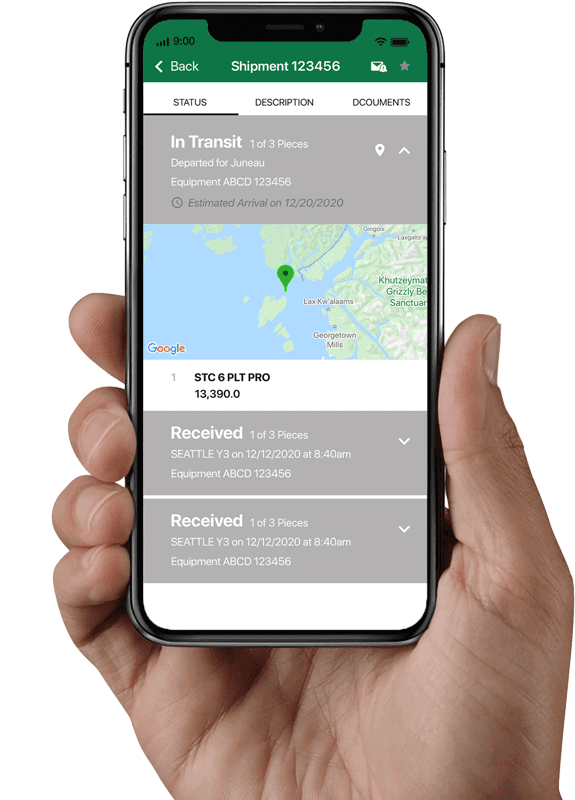 Information Collection and Use
For a better experience, while using our Service, we may require you to provide us with certain personally identifiable information, including but not limited to email address, name, telephone phone number, company, and mailing address. The Service uses third party services that may collect your personally identifiable information. The privacy policy for such third party services is located at this link: Google Play Services
Log Data
Whenever you use the Service, we collect data (through third party products) from your mobile device known as "Log Data," which is used to address computer errors. Log Data may include information such as your device Internet Protocol ("IP") address, device name, operating system version, the configuration of the software when utilizing our Service, the time and date of your use of the Service, and other statistics.
Cookies
Cookies are files with a small amount of data that are commonly used as anonymous unique identifiers. These are sent to your browser from the websites that you visit and are stored on your device's internal memory.
The Service does not use "cookies" explicitly. However, the Service may use third party code and libraries that use "cookies" to collect information and improve their services. You have the option to either accept or refuse these cookies and know when a cookie is being sent to your device. If you choose to refuse our cookies, you may not be able to use some portions of the Service.
Security
We value your trust and use commercially acceptable means of protecting it. But remember that no method of transmission over the internet, or method of electronic storage is 100% secure and reliable, and we cannot guarantee absolute security.
The following link leads to the machine readable files that are made available in response to the federal Transparency in Coverage Rule and includes negotiated services rates and out-of-network allowed amounts between health plans and healthcare providers. The machine-readable files are formatted to allow researchers, regulators, and application developers to more easily access and analyze data.