Environmental Stewardship
Lynden was founded on principles of integrity and a common-sense desire to be efficient and do things right. Our culture of innovation and personal responsibility works in harmony with a commitment to protect the environment.  
Green isn't just our corporate color; it's how we work and do business. Lynden has a long history of operating safely and responsibly in the sensitive and challenging lands, air and waters of Alaska, the Pacific Northwest, and other locations around the world.
Lynden's people, equipment, processes, and technology are guided by an environmental policy that calls for meeting or exceeding environmental regulations, maximizing fuel efficiency, and monitoring and guarding against accidents, emissions, and avoidable pollution.
Our employees are an important part of this effort. We created a Green Team, made up of employees from different locations, to brainstorm ways to reduce waste, reuse materials, and recycle throughout our global companies. We also launched a Green Initiative to expand upon the Lynden tradition of doing more with less.
Lynden strives to operate in the most efficient manner with the highest regard for the health and safety of our employees and protection of the environment. We pledge to manage our business in accordance with the following principles, to the greatest extent feasible:
Meet or exceed requirements of applicable environmental laws and regulations.
Maintain a commitment to continual improvement in environmental performance with consideration given to environmental aspects and including areas not subject to regulation.
Consider the long-term and overall environmental impact of our choices. Aim to strike the optimum balance between the environment and the long-term viability of our business.
Prevent pollution and protect the land, air, and water by maximizing efficiency, operating safely and responsibly, striving for cleaner processes, and guarding against accidents and avoidable pollution.
Make the environment a priority by encouraging and actively supporting employees in their daily efforts to achieve and surpass environmental compliance obligations and improve environmental performance.
Provide employees with an environmentally friendly workplace, clear expectations regarding environmental requirements, and the necessary training to perform their jobs in compliance with environmental regulations.
Inform employees, contractors, partners, government agencies, and the public of our environmental policy and relevant environmental aspects of our operations. Openly listen, consult, and respond to their concerns.
Establish, monitor, and periodically review environmental objectives and targets.
Make appropriate resources available to implement this policy.
This environmental policy applies to all Lynden activities.
Jon Burdick                     Jim Jansen
President and CEO         Chairman of the Board
Lynden Incorporated     Lynden Incorporated
Lynden invests in the industry's best, most efficient equipment to minimize the impact of our operations on the world around us. We design our own modifications to make our trucks, planes, and vessels more aerodynamic and energy efficient. More than 90 percent of our trucks are less than 5 years old with ultra-efficient diesel engines that meet new emission standards. More than 100 propane forklifts have been replaced with electric models and our reefers have been converted from diesel to electric. We are continually seeking ways to move freight more efficiently.
Truck tires feature a pressure monitoring system and laser alignment to reduce wear and improve fuel efficiency.
Auxiliary Power Units (APUs) allow long-haul drivers to shut down engines during downtime.
Onboard oil filtration systems increase the interval between oil changes to 100,000+ miles.
Drivers use software to help plan the most efficient routes to reduce fuel use and idle and drive time.
We transport dual loads and piggyback tractors to reduce empty backhauls.
Refrigerated trailers on the barge plug into electricity while on shore and use time-share units to cycle between two reefers every four hours, reducing the amount of electricity needed at port.
We are continually working to improve the efficiency of our equipment on land, air, and sea. For the past several years, we have worked with the Washington State University College of Engineering to model and refine the aerodynamics of our milk tank trucks in their wind tunnel. These ongoing innovations are part of our duty and responsibility to uphold Lynden's environmental commitment.
Lynden companies consistently score among the most efficient fleets in the nation despite operating in some of the most steep terrain and extreme weather. Our companies also receive top marks for working accident free and protecting the environment through a variety of voluntary programs.
We are proud of our proactive commitment to the environment and our achievements of being the first Alaska-based transportation company recognized by the Environmental Protection Agency (EPA) SmartWay Transport Partnership and the first trucking company to earn the Green Star Award for Alaskan business. Year after year, we are named to Inbound Logistics' top 75 Green Supply Chain Partners list. Lynden companies are multi-year recipients of the EPA SmartWay Excellence Award, and we received an EPA High Performer Award for efficiencies in our flatbed and reefer fleets.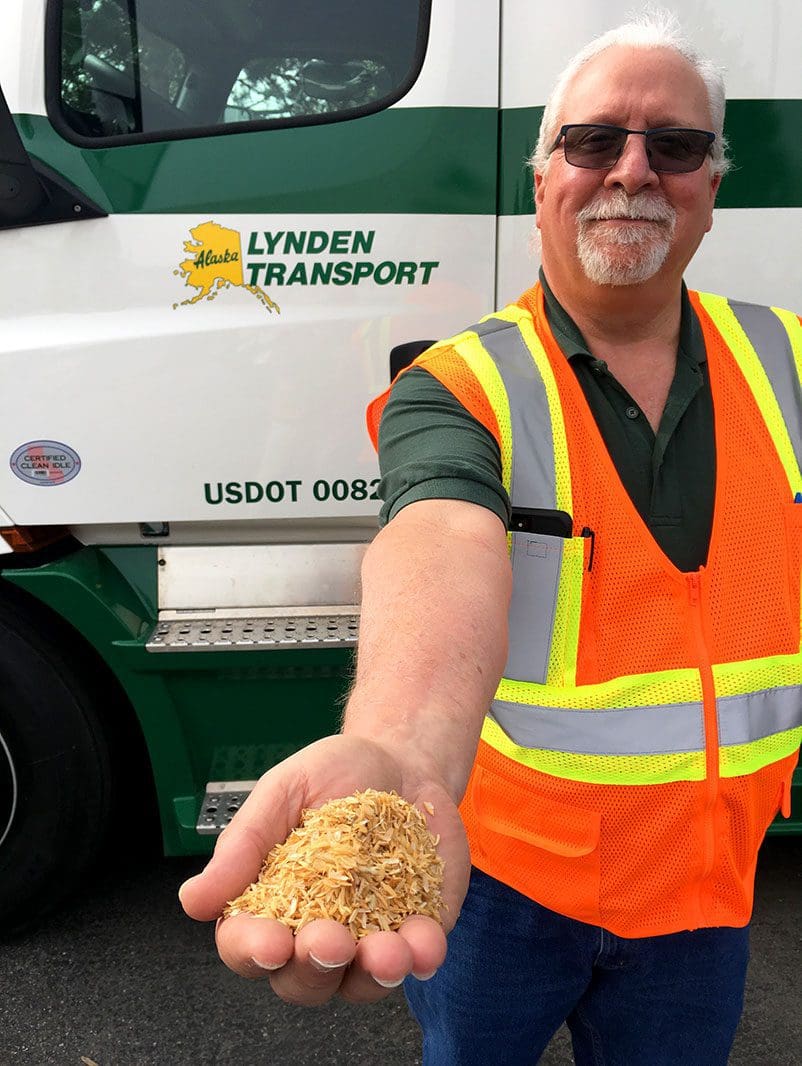 At Lynden, we put our words into action by participating in local projects in our communities. Lynden trucks backhaul recyclables from Anchorage to Seattle and from Kenai to Anchorage at no charge to make recycling free and convenient for Alaska communities. We were named Contributor of the Year by Alaskans for Litter Prevention and Recycling (ALPAR) for our efforts.
Our procedures and equipment are designed to prevent accidental spills and manage storm water pollution. Materials that are harmful to the environment are stored and handled with the utmost care, and we recycle our engine oil, antifreeze, solvents, and batteries.
Our Fairbanks training center provides hands-on hazardous materials training to professionals from a variety of industries throughout Alaska. Trainers teach accident prevention and proper response and cleanup of toxic spills while providing hands-on exercises that further efforts to help protect the environment.
Lynden locations have been retrofitted, redesigned and, in some cases, relocated for energy efficiency, to shorten travel distances and maximize loading schedules.
We promote recycling and a 'think before you print' paper policy to reduce paper and ink use at all locations. Using low-energy LED lights, rechargeable batteries, and disposing of electronic waste responsibly are just some of the ways Lynden is putting policy into action. We make the environment a priority by encouraging and actively supporting employees in their daily efforts to work clean and green. We even have a Green Tip column in our employee newsletter and an annual Green and Fit contest to encourage employees to walk, bike, or use mass transit for commuting to work.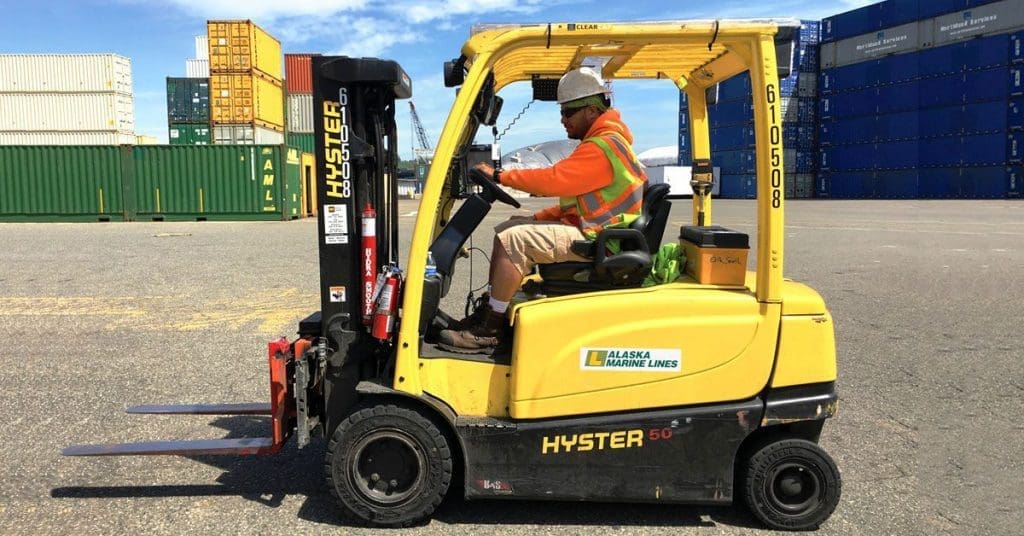 Each day, whether on land, sea or in the air, Lynden employees consider the long-term and overall impact of our choices on the world around us. Our ultimate goal is be good stewards of the earth by leaving the smallest footprint possible while serving our customers.