Need help? Our experts are ready to find the solution you need.
Energy Transportation and Logistics
From the trans-Alaska Pipeline construction in the 1970s to today's global oilfield operations and exploration, Lynden has a long history of supporting the oil and gas industry. We transport critical equipment and handle complex logistics for the top companies in the business in some of the toughest environments around the world. Depend on Lynden for your energy transportation and logistics needs.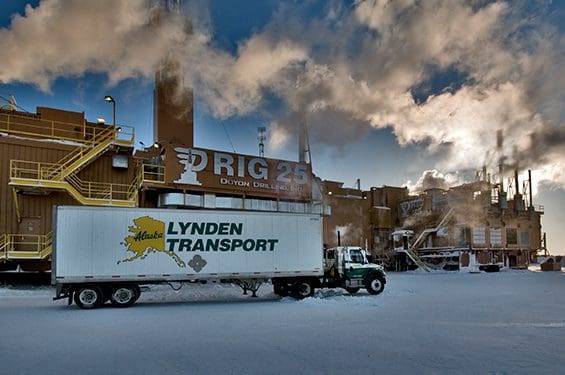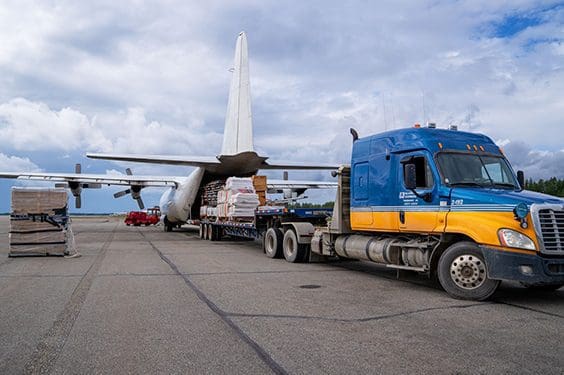 With a variety of intermodal service options, including a fleet of L-382 Hercules aircraft and specialized trucks and barges, we have the expertise, experience, infrastructure and personnel to handle anything you need shipped, trucked or flown onshore or offshore.  
We've spent decades hauling oversized freight to the Prudhoe Bay and Kenai oilfields, and we understand the oil and gas business. Our energy transportation and logistics services include support for drilling contractors, chemical suppliers, camp support, construction, and all phases of resource activity on and off the road system throughout the North Slope, offshore Alaska and Canada.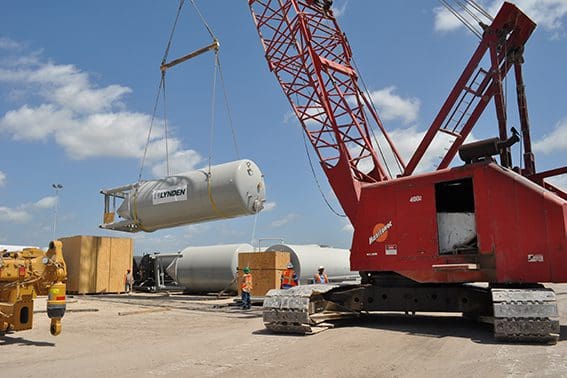 Projects in Russia, Peru and Papua New Guinea have given us the experience to tackle any global exploration or support project. Whether you have a complete drill rig, a camp of modules or a heavy haul of supplies, we know how to move it efficiently, safely and within your budget. We have established relationships in the industry, and you benefit from our expertise, infrastructure, knowledgeable staff and environmentally safe and sensitive business practices.
Lynden's online tools, like our free EZ Commerce system, give you the power to control information about your shipments, projects and business.
The combination of length, width, height and weight are needed to determine feasibility of shipping any oversized loads to or within Alaska. The limitations are based on different types of equipment, how loads are configured, routing options and timing of the loads. During weight restrictions there are severe limitations on transporting overweight shipments. Anything larger than 40 feet in length and up to 14 feet wide weighing 35-50 tons should be planned well in advance so that limitations can be identified and mitigated.
Oilfields are typically located in remote locations, and often have specific supply chains designed for what works best at each location. The North Slope area is a network of logistics challenges with controlled access roads, off-road pads, ice road only accessible, summer/non-ice barge accessible, and private airstrip access. Shipping to the North Slope requires a transportation provider that is familiar with the unique access requirements and supply chain processes. Lynden has been providing these oilfield services for decades.
Critical rush shipments to an oilfield requires planning ahead and often involves assessing alternative modes of transport to meet each field's unique supply chain. Since most fields are in remote locations, supply chains may require shipping long distances from population centers using specialized equipment. The financial impact of construction or drilling delays can be as significant as missing an entire year, due to the seasonal nature of accessing the fields, so it's important to plan ahead so shipments are scheduled during seasonal periods.
The imposition of weight restrictions during spring breakup can have a significant impact on timing of oversized shipments. Many companies have consolidation services to support their supply chain. Using a carrier, like Lynden, familiar with the specific fields with access to the appropriate shipping options and schedules is vital for success.
We have the
equipment
experience
solutions
for your freight needs!
Submit a request to receive a personalized quote from one of our freight professionals.
Complete our form to schedule a shipment. Include your quote number if you have one.