Need help? Our experts are ready to find the solution you need.
Shipping Construction Supplies and Equipment
Construction projects come in all shapes and sizes, and with more types of equipment and intermodal services than any other transportation company in Alaska, Lynden is uniquely qualified to help move the materials needed to get the job done. Construction customers can choose from our trucking, barge and air services — plus hovercraft and snow cats — to ship construction supplies and equipment to build just about anything anywhere in the world.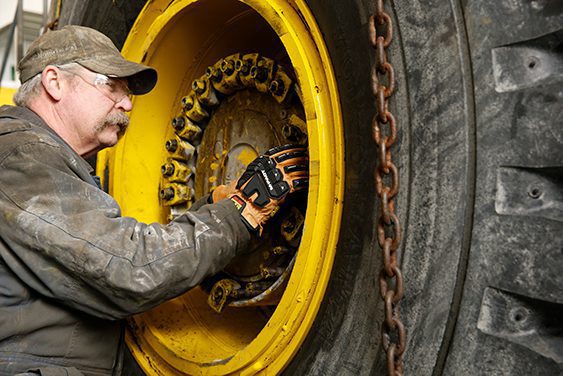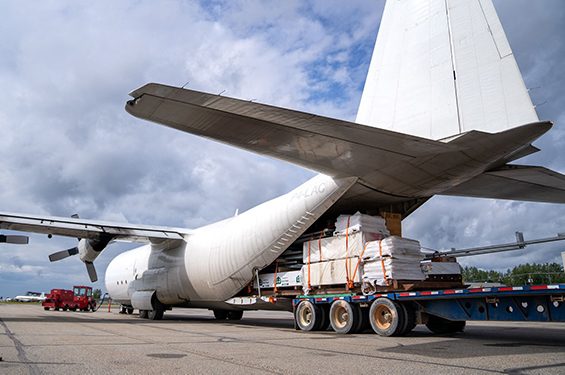 Lynden excels at large-scale project management and can provide immediate mobilization as well as designing transportation plans for long-term materials staging at construction sites.
Charter services and an array of barge and marine equipment give us the flexibility to move any size equipment. Barges feature a removable fence system on deck to accommodate bulk cargo and a fleet of flatbeds, vans, stretch and lowboy trailers — even an L-382 Hercules aircraft — can be called on in any combination to get your oversized building materials delivered on time.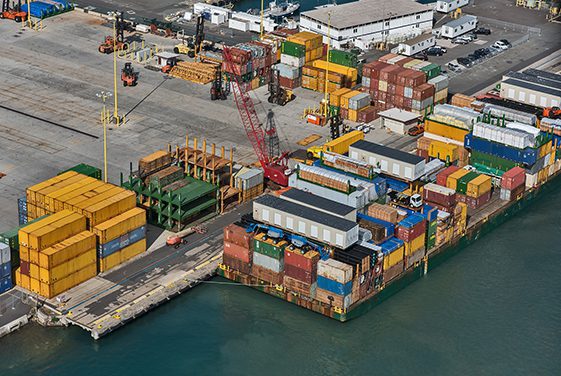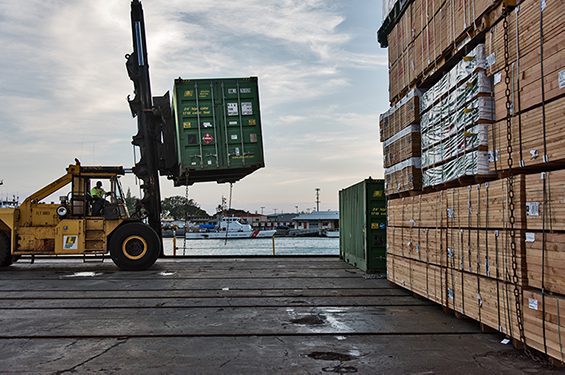 From building sites in a big city to the smallest village, we'll take care of troubleshooting the route ahead of time. Leave the oversized permitting, weight restrictions and other details to us. We'll deliver the big stuff so you can start building.
Lynden's online tools, like our free EZ Commerce system, give you the power to control information about your shipments, projects and business.
Make sure your logistics provider has a variety of equipment, including 102"- wide vans and high-cube, flatbeds, step-decks, double-drops and 4-axle flats for heavy loads.  Discuss the overall size of the modules with your provider before final design and engineering to ensure they can be moved once built.
Additionally, you'll need to share the following:
Origin and final destination
Are the modules steel skid-mounted, or soft bottom (wood)?
Will dunnage be required under the module, and if so, what size?
Who will load and unload? Is a crane needed?
Do loads need to be tarped or shrink-wrapped? If so, the module number should be on the outside of the plastic to identify the load.
Is there a delivery order so the right units move first?
Is there road access or is the destination remote enough to require barge or air transportation?
What time of year is it moving? Some delivery seasons are very short, and if you miss it, you miss a year.
Oversized loads may be affected by seasonal weight restrictions required by the DOT in Alaska. This typically lasts from mid-April through May.
Carriers like Lynden offer multi-mode options from the Lower 48 to Seattle using rail and highway, then air, highway, ship and barge to Alaska. Make sure your carrier offers these options if possible when shipping construction supplies and equipment. Once in Alaska, the provider should know the area including ports, rivers and runways to put together a cost-effective schedule to deliver your materials.  To get a quote, be prepared to answer these questions:
When is the freight ready to move?
Does it need to be picked up in the Lower 48, or will it be delivered to a carrier facility or dock?
When does the freight need to be delivered to the job site? Does it all need to be there at once?
What is the commodity, size, and weight that you are shipping?
Structural steel comes in different shapes and sizes, and often comes in a multiple piece "Building Kit" on a single trailer or platform. Here are a few things to consider:  
Steel-on-steel loading is prohibited.
All dunnage (packing material and supports) must be wider than it is high.
Multiple pieces of blocking or dunnage must be stacked in layers and firmly nailed together.
Blocking lumber, or dunnage, should be of sufficient size and number to easily support the load. 4 x 4's, preferably of hardwood construction, are recommended.
Cross beams should span the entire width of the load when possible. Multiple layers of cross beams should be arranged vertically.
We have the
equipment
experience
solutions
for your freight needs!
Submit a request to receive a personalized quote from one of our freight professionals.
Complete our form to schedule a shipment. Include your quote number if you have one.