Note: our tracking URL structure will be changing soon. For most customers this will have no impact, and you can continue tracking shipments like normal. However, if your company automatically generates Lynden tracking links, please email information@lynden.com for details on the updated URL structure.
How do I find my Lynden tracking number?
Your tracking number will be between 6 and 8 digits long. Do not include the dash and extra number after the dash (if there is one). You may see the tracking number listed as "Pro Number" or "Shipment Number" on your Bill of Lading or other shipping documents.



Advanced Tracking Options
If you don't have a Lynden tracking number, you can still search for your shipments using reference numbers. These can include but are not limited to the unit number, purchase order, booking or quote number, and shipper bill of lading number.

Is another carrier bringing your shipment to one of our locations for us to transport it to Alaska or Hawaii? If so, you can track your shipment using the carrier pro number your shipment delivered to us on.
Simply enter that carrier's tracking number and carrier code (optional) to pull your shipment. On our tracking results page, you will see the updated shipment status as well as our assigned Lynden tracking number to use when tracking your shipment going forward.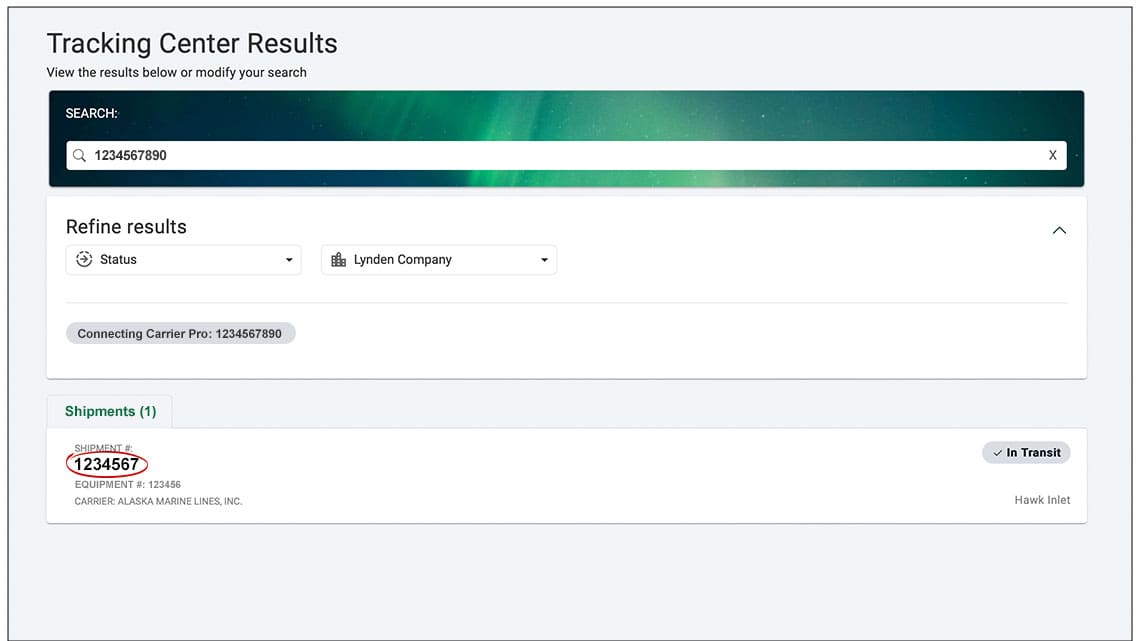 Frequently Asked Questions
Is your shipment being delivered to one of our locations? If so, there's a chance we haven't received your shipment yet. We suggest checking with the carrier that was bringing it to us to see if they have delivered yet, or checking back with us again in a day or so. If you are using Standard Tracking or Additional Tracking Methods and do not have a Lynden bill of lading number, reference number or connecting carrier pro number, please contact us at
customercare@lynden.com
, 1-888-596-3361, or
live chat
with us.
Absolutely!
For advanced freight tracking and to view shipment documents, sign up for EZ Commerce. Learn More »
Receive emails with your shipment's progress by signing up for Shipment Updates. Sign Up »
Check out our other
Online Tools
View the shipment details you want with customizable reporting that can be downloaded or sent via email.
Receive email notifications whenever your shipment hits certain milestones in the shipping process.
Visit our Online Tools Help Center for tutorials on shipment tracking