Need help? Our experts are ready to find the solution you need.
Shipping a Boat to Alaska or Hawaii
Shipping your boat to and from Alaska or Hawaii is easy with Alaska Marine Lines. Our barge service is a reliable and economical option for those interested in traveling, fishing, or looking to relocate to Alaska or Hawaii. Our knowledgeable and friendly team will answer any questions and make sure your boat is transported safely.
We offer regular service between Seattle and Southeast Alaska, Central Alaska, and Hawaii, as well as seasonal service to Western Alaska and locations in the Arctic region. Boats can also be shipped between Hawaii and Alaska. We recommend shipping your boat on a trailer, but if not possible, please check with our local Service Center on boat lifting options.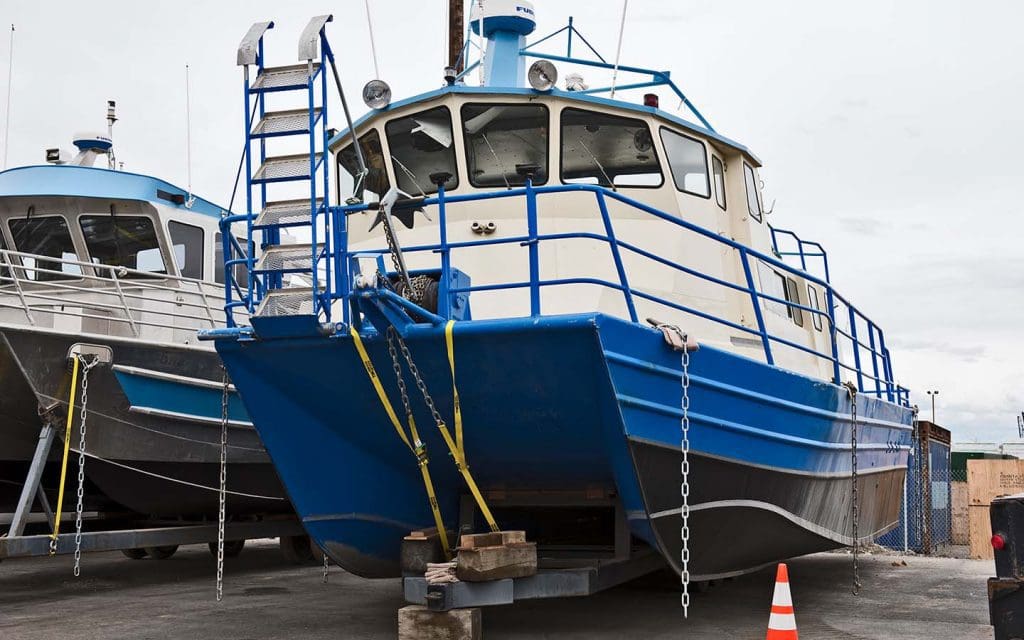 We provide transportation of your boat between our Service Centers only. View a list of our locations.
Shipper must furnish necessary skids, cradles, chocks or other devices necessary to ensure safe handling. Alaska Marine Lines does not provide boat cradles but can refer customers to a third-party.
Boat dimensions are determined by measuring the width of the boat at its widest point by the length of the boat at its longest point. This may include trailers, railings, motor, propellers, masts, swim steps, etc. For a boat on a trailer, this includes the tongue or hitches (tip of the tongue to back of the bumper).
Boats requiring a crane for loading must be scheduled in advance with a third party. A waiver is required and additional charges will apply.
A signed waiver is required prior to shipping.
Customers shipping to Alaska – Personal effects are allowed in the boat, but are only accepted at a release valuation of $0.10 per pound. This means if the personal effects are damaged in transit, the maximum coverage offered is $0.10 per pound. The weight of the personal effects must be noted on the bill of lading for this coverage to apply.
Customers shipping to Hawaii – Personal effects are prohibited from being loaded into the boat.
Exceptions may apply and will be provided at time of booking.
Follow these instructions for shipping your boat
We have the
equipment
experience
solutions
for your freight needs!
Submit a request to receive a personalized quote from one of our freight professionals.
Complete our form to book your shipment. Include your quote number if you have one.