Heavy Haul and Bulk Trucking
Alaska West Express provides heavy haul and bulk trucking throughout the United States and Canada, specializing in shipments to and from Alaska, where we are the leader in transporting liquid- and dry-bulk products, hazardous and non-hazardous chemicals, and petroleum products.
Track using Lynden #, Reference #, or Carrier Pro # to receive up-to-date status on your Lynden shipment.
Submit a request to receive a personalized quote from one of our freight professionals.
Fill out an online request to schedule your shipment. Include your quote number if you have one.
Visit our Tracking Center for basic freight tracking (no login required). Visit Tracking Center » 
For advanced freight tracking and to view shipment documents, request to be set up with an EZ Commerce account. Learn More »
Receive emails with your shipment's progress by signing up for Shipment Updates. Sign Up »
Receive automatic email notifications when your shipment departs origin, arrives at destination, is scheduled for delivery (or the date it will be available for pickup, if it's not being delivered), and when it has been delivered. Sign Up »
Designed for customers who ship frequently, users can access tracking information, view shipping documents, schedule shipments, obtain delivery receipts and PDF invoices, and a variety of downloadable shipment activity reports, customized for your shipments. Learn More »
Since 1984, customers have relied on Alaska West Express to handle, transport and manage their bulk products to and within Alaska.
We transport bulk-liquid, bulk-dry, and bulk-bagged commodities including:
Acids & Caustics
Cement, Lime & Sand
Ceramic & Natural Proppants
Granular Salts & Chlorides
Methanol & Oilfield Chemicals
Petroleum Products
With our modern fleet of intermodal tanks, specialized chassis, pneumatic bulkers, chemical and petroleum tankers, and flatbeds we have the equipment to handle any chemical or dry-bulk trucking needs.
Our diverse inventory of specialized equipment gives us an advantage over other heavy haul transportation companies. Choose from multi-axle double-drops, step-decks, stretch-decks, flatbeds, Landolls, and intermodal ISO tank chassis.
With the combination of in-house marine options and specially designed equipment, including a Scheuerle trailer to carry 100-ton payloads, we can handle the heaviest project shipments.
To set up a charge account you'll need to submit a Credit Application. Once received, our team will set up a customer account number for you, and you'll be all set to start shipping!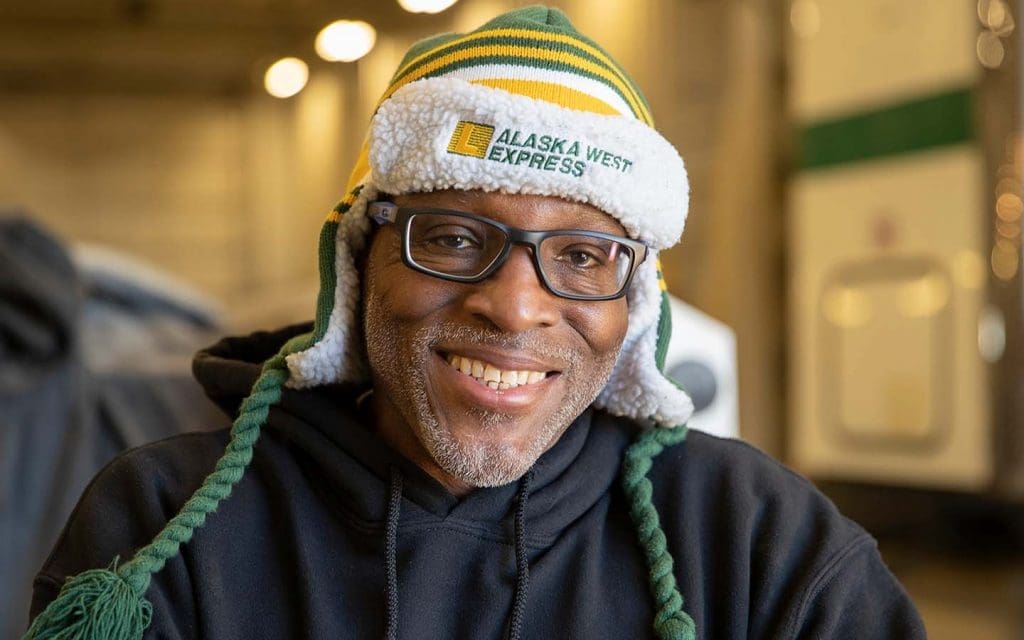 Whether driving Alaska's haul road, moving oversized freight, transporting bulk chemicals, or providing the mechanical and logistics expertise to support those operations, our hard-working team gets the job done. We work throughout Alaska, including the North Slope, and also move freight in the lower 48 and Canada.
Interested in joining our team? We are looking for motivated and reliable individuals to be drivers, mechanics, and a variety of other positions. Click below to apply online! If a position is not currently listed, please email information@lynden.com to let us know you're interested.
If you are looking for a solution to your bulk transportation needs, Alaska West Express has the people, equipment, and partners you can count on. We have earned a reputation for safe, dependable service to the oilfield, mining, construction, and manufacturing industries with unrivaled heavy haul and bulk trucking service to locations on the North Slope of Alaska.