Pacific Northwest Bulk Milk Hauler
Start your adventure at Lynden: Join our driving team!
Celebrating 75 years of bulk dairy transportation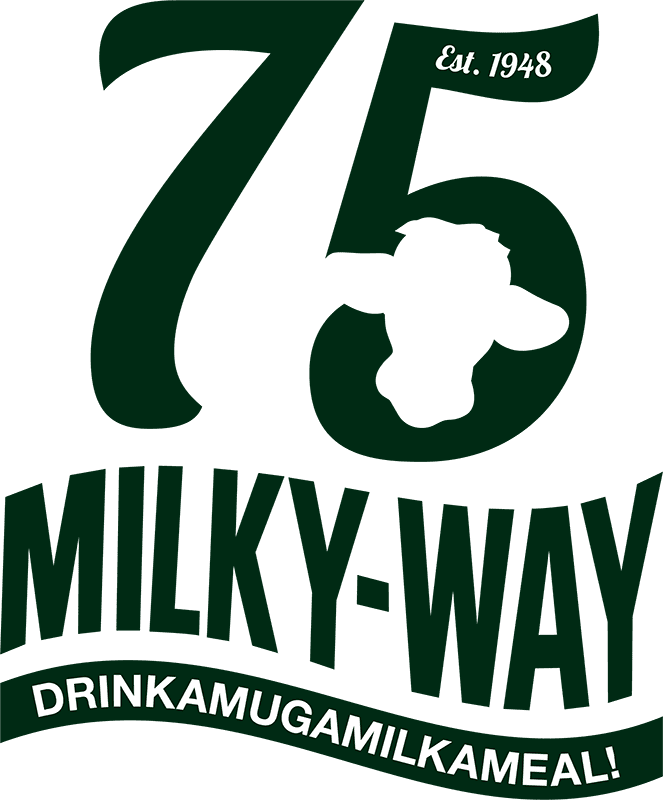 Milky Way is celebrating its 75th anniversary! We are proud to serve dairies and customers, and grateful for their support and partnership. Our success in bulk-milk transportation is a product of the hard work and dedication from our drivers, mechanics, dispatchers, and support teams throughout the Pacific Northwest. Read more about our history and experience hauling milk.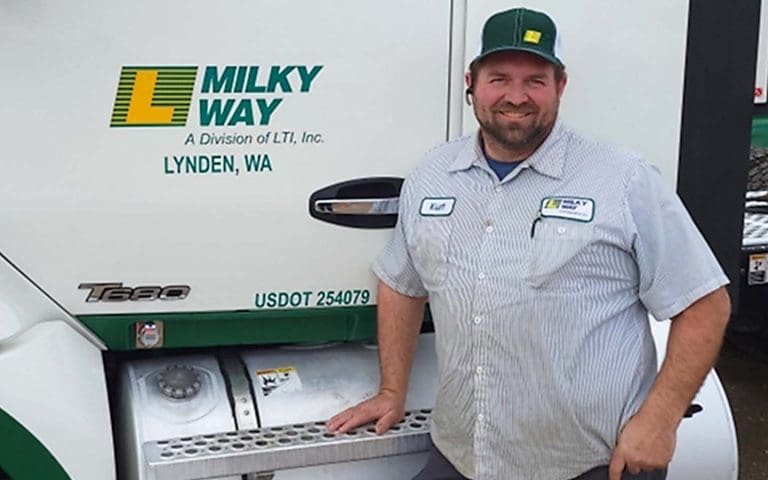 Our exceptional drivers transport so much more than freight. They support farmers, businesses, and communities throughout the Pacific Northwest. Together with our mechanics and operations teams, they get it done safely and efficiently.
Interested in joining our team? We are looking for motivated, talented, career-oriented individuals as drivers for both local and regional routes, and mechanics and a variety of other positions out of many of our Service Center locations. The Lynden family of companies provides a wide range of opportunities for career advancement and encourage our employees to grow and develop within the company. We believe our diverse workforce contributes tremendously to our success.
Milky Way, a division of LTI, Inc., entered the milk-hauling business in 1948. By the 1970s, Milky Way was the largest motor carrier of bulk fluid milk within the state of Washington and, today, it remains the premier hauler for the dairy industry throughout the Pacific Northwest. For over 35 years, the company has carried milk in its own custom stainless-steel tankers built by Lynden Tank Co. Lynden Tank continues the fine craftsmanship of new, state-of-the-art tankers for the safe and efficient pickup and delivery of dairy products to our valued customers.
Milky Way has established multiple Service Centers throughout the Pacific Northwest, offering milk pickup throughout Washington, Oregon, Idaho, and Montana. We take pride in representing the traditional values of integrity, efficiency, and personal service throughout our organization.
LTI, Inc. is dedicated to protecting the environment and reducing our carbon footprint. We are proud to be a six-time winner of the EPA SmartWay "Excellence" Award. The SmartWay Transport Partnership is a collaboration between the U.S. Environmental Protection Agency and transportation companies to voluntarily improve fuel efficiency and reduce air pollution from freight transport. The EPA "Excellence" awards recognize the top one percent of SmartWay partners for superior environmental performance and leadership. LTI, Inc. earned a top score in the Tanker Fleet Category based on its exceptional fuel economy, payload, idle time, and use of modern reduced emissions equipment.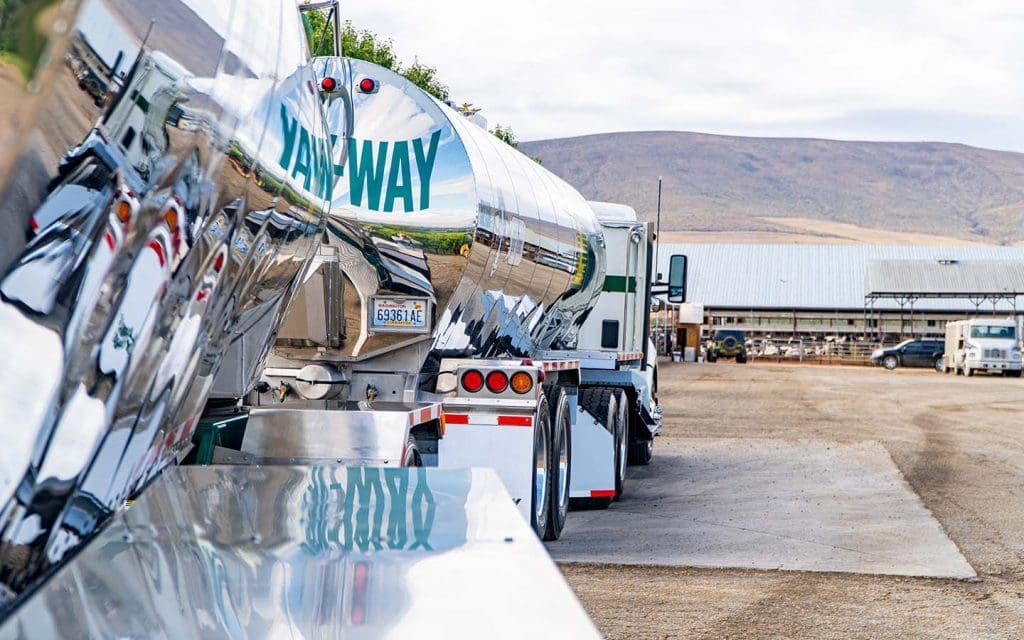 Bulk Dairy Transportation
We are the leading bulk-milk hauler in the Pacific Northwest, and we are on the job every day of the week. Our drivers pick up milk from dairy producers using state-of-the-art stainless-steel tankers with truck-mounted pumps developed by Milky Way. The pumps operate without external power allowing our drivers to stay on schedule, loading and offloading liquids even during power outages at customer sites.
With Service Centers and support staff strategically placed throughout the Pacific Northwest, Milky Way provides dairy pickup with the highest level of safety, reliability, and service. We are always striving for the newest innovative transportation solutions to better serve our customers.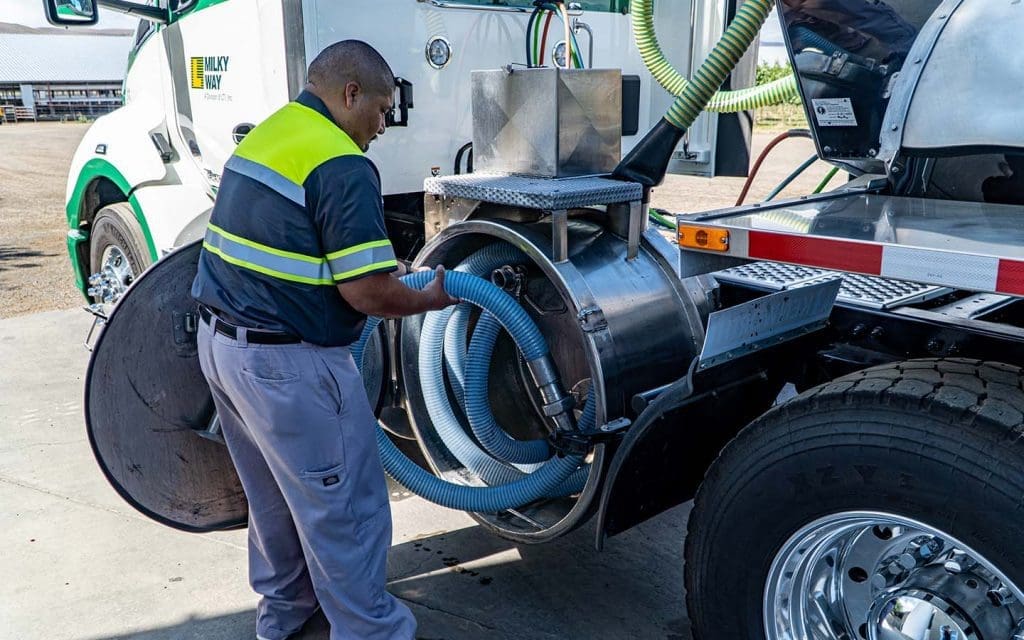 While we're proud of our modern equipment, we believe the quality of a business is determined by the quality of its people. Many of our support staff and drivers have been with us for over 20 years, which adds up to a lot of experience. Our drivers, maintenance and support employees are trained transportation professionals with outstanding safety records. We remain committed to our safety programs, training, and the ongoing use of technology throughout our operation. Our entire fleet is equipped with GPS tracking and onboard computers to monitor our efficiency and safety while performing our duties.
Important Documents and Links