Reporting in EZ Commerce puts you in control of important shipment information needed to help manage your transportation process. You can view reports online, receive them via email, and download them as Excel, HTML, or as a Comma Delimited files. In addition, you have the ability to schedule reports to be emailed to multiple email addresses covering specific date ranges and sent at intervals you specify.
Reporting Overview
Reporting Actions
Customs Reports
Once you are logged into EZ Commerce, click on the "Reporting" tab!

"Choose Report" allows you to determine the type of report you want. You can create something specific to your needs with customization features or utilize Standard and PDF Reports for more general data.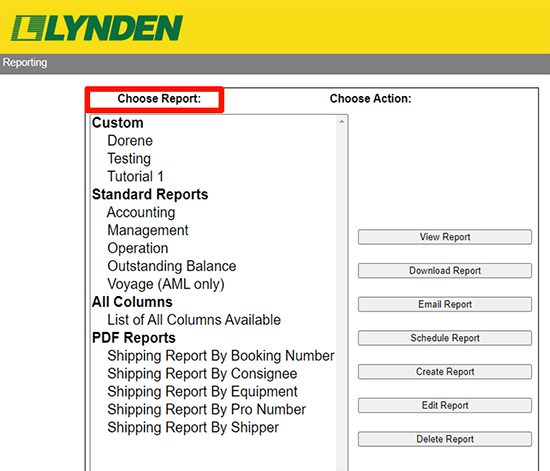 Custom – allow you to create reports based on data that is important to you. You can have multiple "custom" reports and you can also schedule them to be automatically sent to you based on your schedule.
Standard Reports:
Accounting – if you are the "Bill To" party, this report displays your accounts payable payment and invoice information on shipments within a specified date range. The report includes only those bills that have been invoiced.
Management – provides data about the shipments you've moved with Lynden for the specified period of time. Weight and pieces are shown for master bills when there are multiple shipments. If you are the "Bill To" party, charges will also be displayed.
Operation – this report gives shipping and receiving information including all status information for shipments within the specified date range.
Outstanding Balance – if you are the "Bill To" party, this report reveals any outstanding invoices, charges, payments and adjustments for the specified date range.
Voyage (AML only) – delivers various shipping and receiving data by Voyage (for Alaska Marine Lines barge voyages only).
All Columns – allows you to access over 50 columns of data regarding various shipment details for all shipments within a specified data range.
PDF Reports – Each displays the same shipment detail, the difference is based on how the data is sorted.